Welcome to Wild Birds Unlimited of Boise!
Bring Home a Seed Character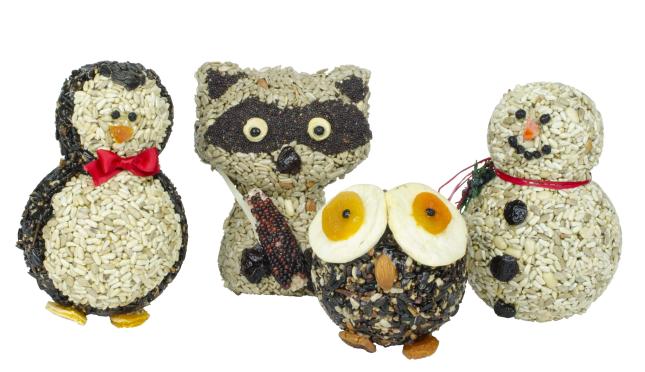 Honestly, could they be more adorable? Available exclusively at Wild Birds Unlimited, we offer several fun Seed Cylinder characters, including Hoot the Owl, Rascal the Raccoon, Preston the Penguin and Buttons the Snowman. Each is a mix of seeds, nuts and fruit and a wonderful addition to any yard.
Each character makes a great guest helping you attract many of your favorite birds, including chickadees, woodpeckers and goldfinches. They hang around for a while so you don't have to venture into the wintry weather too often to replace them. And they are fairly tidy to boot.
The variety of ingredients in our exclusive character Cylinders makes them a perfect addition to any yard as well as great gifts. Visit the store to bring home one of our adorable seed characters before they're gone.
We Have the Freshest Bird Food in Town.
We also have the freshest bird food in town, and we can prove it. Our exclusive regional blends aren't just fresh; they're specially formulated from 100% edible seed that your backyard birds will love.
We are Certified Bird Feeding Specialists.
Wild Birds Unlimited is here all year long for the birds in your yard, not just in the winter. Our seed and birdfeeding products are the reason we're in business. We never move our bird seed and feeders to accomodate the seasonal trends as garden centers and big box stores do.
Wild Birds Unlimited doesn't just sell bird feeders, birdhouses, bird baths and bird food. We pride ourselves on being able to give you the most accurate information and knowledge about your local birds. It is our goal for you to have the best possible experience from your bird feeding hobby. Backyard bird feeding is the most relaxing, fulfilling, educational and exciting hobby that anyone, young or old, can enjoy.
At Wild Birds Unlimited, we aren't just a bird store with bird supplies. We are Your Backyard Birdfeeding Specialists™ here to help bring you, your family and nature together.
Your Friendly WBU Boise Staff ~
Julie, Store Owner, Certified Birdfeeding Specialist
Marilyn, Certified Birdfeeding Specialist
Boyd, Certified Birdfeeding Specialist