Welcome to Wild Birds Unlimited of Boise!
Go for the Gold(finches)
It's time to go for the gold in your yard, and you don't need a pole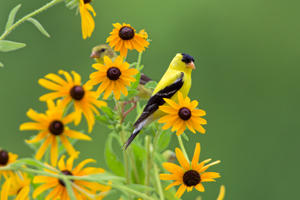 vaulting pit or an Olympic sized pool to do it.Goldfinches live throughout the United States and southern Canada, a fact that makes attracting them to your backyard a bit easier.In July and August, after the male has serenaded the female with canary-like songs, goldfinches begin their nesting season. The location of the nest is usually five to 10 feet high in trees or shrubs and often near a water source.But you can't talk about goldfinches without mentioning their favorite food, Nyjer® (thistle). In fact, it's one reason goldfinches delay breeding until the greatest number of thistle, dandelion and other composite flowers are seeding.But that's good news for you.This delay gives you the opportunity to focus your attention on goldfinches during this exciting time of song and activity (especially since other birds can be less active and busy with their new families).
We Have the Freshest Bird Food in Town.
We also have the freshest bird food in town, and we can prove it. Our exclusive regional blends aren't just fresh; they're specially formulated from 100% edible seed that your backyard birds will love.
We are Certified Bird Feeding Specialists.
Wild Birds Unlimited is here all year long for the birds in your yard, not just in the winter. Our seed and birdfeeding products are the reason we're in business. We never move our bird seed and feeders to accomodate the seasonal trends as garden centers and big box stores do.
Wild Birds Unlimited doesn't just sell bird feeders, birdhouses, bird baths and bird food. We pride ourselves on being able to give you the most accurate information and knowledge about your local birds. It is our goal for you to have the best possible experience from your bird feeding hobby. Backyard bird feeding is the most relaxing, fulfilling, educational and exciting hobby that anyone, young or old, can enjoy.
At Wild Birds Unlimited, we aren't just a bird store with bird supplies. We are Your Backyard Birdfeeding Specialists™ here to help bring you, your family and nature together.
Your Friendly WBU Boise Staff ~
Julie, Store Owner, Certified Birdfeeding Specialist
Boyd, Store Owner, Certified Birdfeeding Specialist
Marilyn, Certified Birdfeeding Specialist