Welcome to Wild Birds Unlimited of Boise!
The Season's Not-so-Lone Rangers
Remember the Lone Ranger? Ever notice how he wasn't really alone? He always had his trusty sidekick, Tonto at his side. Why? Because there is strength in numbers.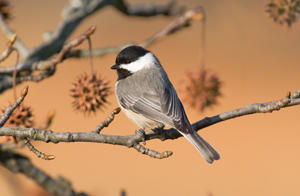 Well, there is strength in numbers in bird feeding, too.
During fall and winter, some nuthatches, titmice and chickadees search for food together in a "foraging guild."
This results in many eyes looking for 1) the now dwindling supply of natural food and 2) potential predators. Birds in the guild recognize each other's alarm calls. This lets the guild keep a collective watch for predators and allows the individual birds to concentrate more on finding food.
Fortunately, chickadees, nuthatches and titmice are some of the hobby's most adored feeder visitors. They're small and cute, their movements are quick and erratic, and though they're gone from feeders just as fast as they arrived, it's easy to be a big fan of these little birds.
Chickadees, nuthatches and titmice are also typically the first and easiest birds to attract to feeders in a wooded setting.
They have a mixed preference for sunflower (in and out of the shell), safflower and peanut pieces for caching (to retrieve and eat later), ingredients found in many of our exclusive seed blends, cylinders, Stackables®, Jim's Birdacious® Bark Butter® Bits and more.
Visit us soon and we'll make sure you have everything you need to see more of these not-so-Lone Rangers in your yard.
We Have the Freshest Bird Food in Town.
We also have the freshest bird food in town, and we can prove it. Our exclusive regional blends aren't just fresh; they're specially formulated from 100% edible seed that your backyard birds will love.
We are Certified Bird Feeding Specialists.
Wild Birds Unlimited is here all year long for the birds in your yard, not just in the winter. Our seed and birdfeeding products are the reason we're in business. We never move our bird seed and feeders to accomodate the seasonal trends as garden centers and big box stores do.
Wild Birds Unlimited doesn't just sell bird feeders, birdhouses, bird baths and bird food. We pride ourselves on being able to give you the most accurate information and knowledge about your local birds. It is our goal for you to have the best possible experience from your bird feeding hobby. Backyard bird feeding is the most relaxing, fulfilling, educational and exciting hobby that anyone, young or old, can enjoy.
At Wild Birds Unlimited, we aren't just a bird store with bird supplies. We are Your Backyard Birdfeeding Specialists™ here to help bring you, your family and nature together.
Your Friendly WBU Boise Staff ~
Julie, Store Owner, Certified Birdfeeding Specialist
Boyd, Store Owner, Certified Birdfeeding Specialist
Marilyn, Certified Birdfeeding Specialist